September 15, 2023
Washington, D.C. September 2023
Washingtonian Magazine names Expression's CEO/CTO, Dr. Abir Ray, a 2023 Tech Titan for the second year in a row. Joining fellow CEOs, entrepreneurs, government officials, and venture capitalists, the Washingtonian recognizes Dr. Ray for his innovation and Expression's work in the Washington, D.C. tech scene.
"Thank you, Washingtonian Magazine, for honoring Expression and me as a Tech Titans for the second consecutive year. We've experienced remarkable growth recently, approaching 150 employees and expanding our support for new Federal Government mission areas." – Dr. Abir Ray
Through Abir's leadership, Expression continues to focus on delivering tailored / AI-enhanced solutions across an evolving technology landscape.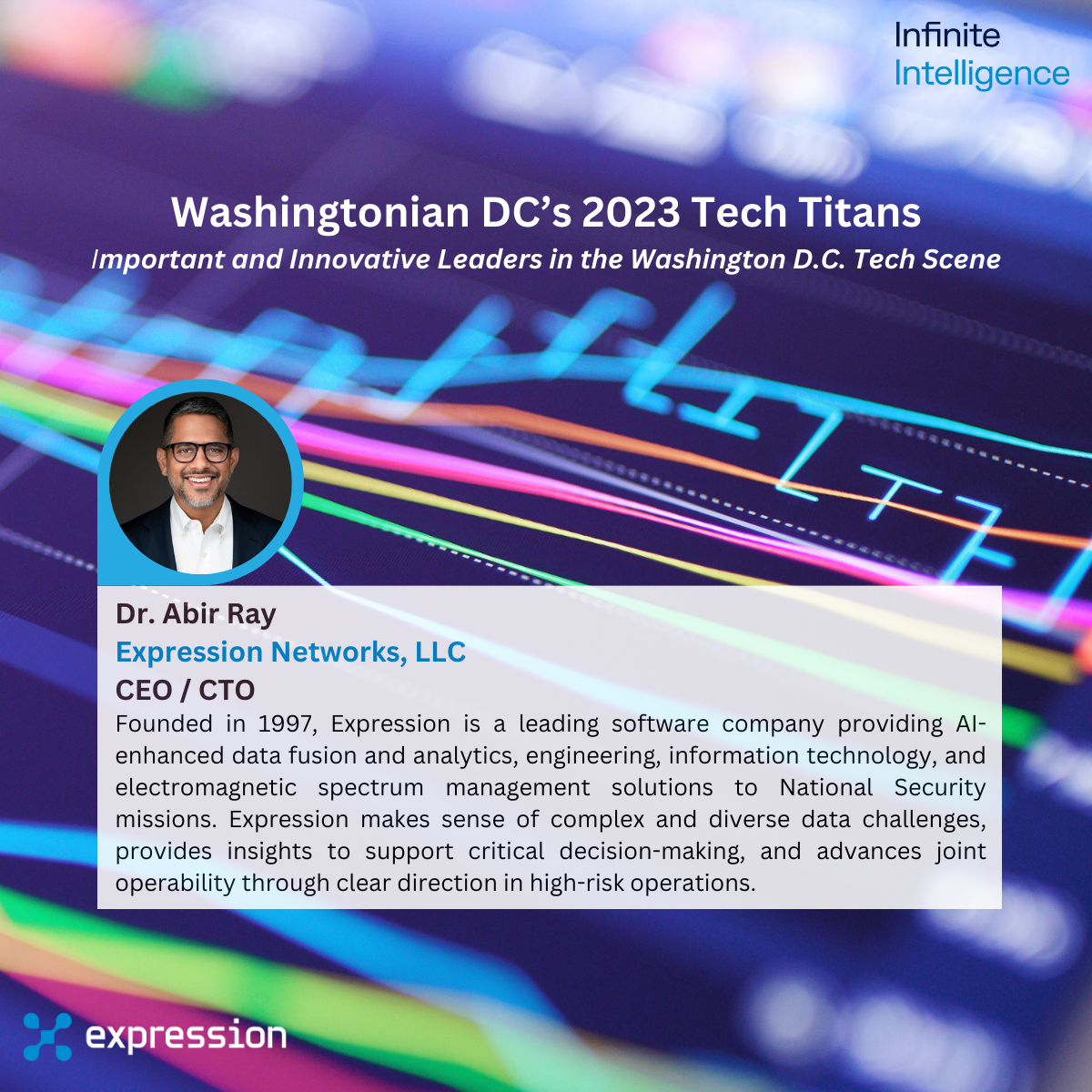 About Expression
Founded in 1997 and headquartered in Washington DC, Expression is a leading software company providing AI-enhanced data fusion and analytics, engineering, information technology, and electromagnetic spectrum management solutions to National Security missions. Expression makes sense of complex and diverse data challenges, provides insights to support critical decision-making, and advances joint operability through clear direction in high-risk operations. The Expression team responds quickly based on real-time data analysis and predictive modeling, enabling customers to stay ahead of threats and proactively address emerging challenges. With a deliberate strategic approach that leverages a modular open-source platform, Expression designs and tailors technical solutions to optimize the customer's environment and meet the most complex of needs. To learn more about Expression, please visit https://expr.ai/.